Panjim – the capital city of Goa with its narrow lanes and traditional homes delights travellers of all ages. No matter what you do, a trip to Goa isn't complete without exploring Panjim City. It offers a seamless fusion between the contemporary and the vintage – letting you pick what part of its past you want to study. That said, most tourists have the same list of things to do in Panjim – they'll go to Miramar, then stop at the Latin Quarters and check out Dona Paula.
If this is what you were planning to do in Panjim on your vacation, then maybe it's time to reconsider. Yes, these locations are worth visiting, but there is more to do in Panjim city. Why stop at a Mandovi cruise when you can spend quieter hours at Campal? If you don't like the high-end restaurants in Anjuna, stop at the cosy tavernas in the capital city.
Needless to say, even Goa's most well-known city has its own hidden secrets. Read this guide to get a glimpse into all the things that you should do in Panjim.
Getting to Panjim
You can reach Panjim by bus or cab. The Dabolim International Airport is about 30km from the city while the Mopa International Airport is about 34km from Panjim. You can book a prepaid cab at these airports which shouldn't charge you more than INR 2000 for this distance.
If you have some time to spare, there are airport buses that go from Mopa to Panjim and Dabolim to Calangute via Panjim. They are budget-friendly but could take more time than the cabs.
Once you reach the Kadamba Bus Stand in Panjim, you can book a cab to get around, rent a car or a scooter or take the bus. There are buses that go to Margao, Mapusa, Porvorim and other smaller villages in Goa.
I. Sightseeing in Panjim – What are some offbeat things to do in Goa's capital?
Panjim is beautiful – full of heritage architecture, decades-old cafes and cosy bars. The Dona Paula Beach, the Immaculate Conception Church, the Miramar Beach and the Latin Quarters are the most-visited places in Panjim. While you shouldn't take them off your list, there are some hidden locations in Panjim that you should check out.
The Maruti Temple, Fontainhas: Get a stunning view of Panjim city
If you like walking through the Latin Quarters in Fontainhas, then the Maruti Temple isn't very far. This underrated landmark is a wonderful place to walk or drive to for a spectacular view of Panjim. On the way, you can marvel at the unexplored Indo-Portuguese homes on the other side of Fontainhas.

The Mandovi Riverfront: Slowing down in the rush
Compared to the rest of Goa, Panjim can seem busier and a little more chaotic. So if you are looking for spaces to slow down and spend a few quiet hours, you need to do it like the locals. Head to Campal Beach which sits lazily outside Panjim City. It's wedged between Caranzalem Beach and Miramar Beach but is frequented mainly by locals looking to avoid the Miramar crowd.

You can even take a detour to the Bambolim beach for a quieter ambience. Lastly, if you want those Bombay vibes in Goa, check out the newly built Mandovi Riverfront Promenade. It does get a little crowded at sunset but there is plenty of space for you to be on your own, listening to the music of the river.


Explore the hidden secrets of Goa's mangroves
Goa's biodiversity is often sidelined due to the more beach-centric tourism. If you would like to explore Goa's natural beauty, take a boat ride through its Mangrove Backwaters in Chorao. If you visit during the winter, you'll also get to see the migratory birds on vacation here. The boat ride unravels a crucial element of Goa's biodiversity and also introduces you to its saltwater community (crocodiles, crabs and so on).

You can also head to the Mangrove Boardwalk in Panjim which was designed to promote education around this flora that has been labelled as the 'lungs of Goa'.

Island in Goa – Offbeat experiences around Panjim
If beaches are not your scene, then you can drive along the Ribander causeway and head to the ferry terminal up ahead. Take a ferry to Divar, a ferry to Chorao or book a boating tour on the Mandovi. Unlike the cruises, these give you a quiet escape from the noise.


Forts and churches – experience the history of Goa
While Goa's heritage homes and quaint cafes are worth every bit of attention, they aren't the end-all-be-all of Goan architecture. Drive across the Mandovi to check out the historic Reis Magos fort and get a stunning view of Panjim City. Moreover, Old Goa and its stories are also just a 20-minute drive from Panjim. Head there and check out the Christian Art Museum or book an exploratory experience with Soul Travelling.

Bookstores & Libraries in Panjim – Treat your inner bookworm
The Panjim city is well-known for its heritage buildings that now house up-and-coming contemporary stores and cafes. If you are a bookworm, you'll love walking into the Singbal's Book House right opposite the Immaculate Conception Church. It's set in a bright blue Indo-Portuguese building and dates right back to the pre-Portuguese times.

Apart from this, pop into the massive 5-storeyed Krishnadas Shama Library, the quaint little Varsha Book Stall that dates back to the 1970s and the Broadway Book Store which is one of the biggest in Goa with a dynamic collection of Books.


II. Panjim Food Guide – Where to eat in Goa's capital city?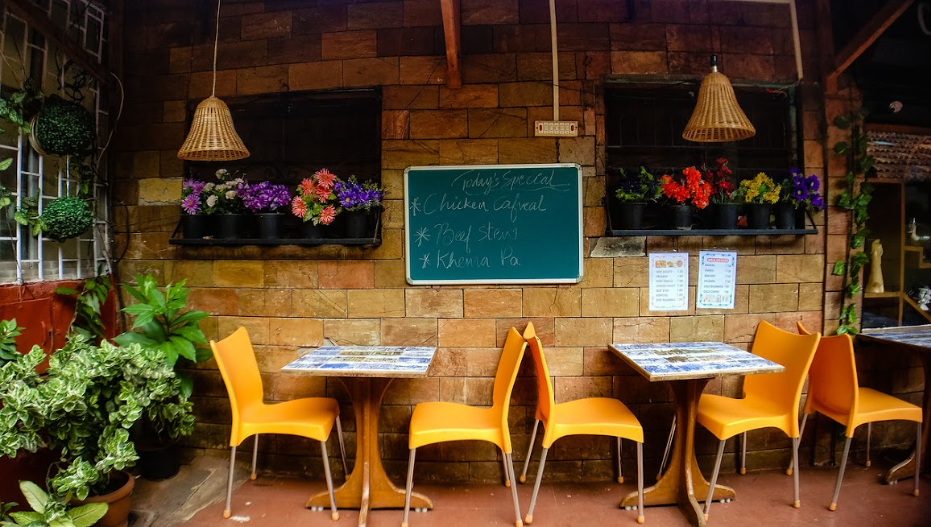 If you are looking for a cosy cafe in Panjim to unwind and chill –
The Perfect Cup, Nanbai, Cafe Basil, Creme Choc and Bombay Coffee Roasters are some local favourites.
If you are looking for a local Goan fish thali in Panjim
Try out Konkni Kanteen, Ritz Classic, Peep Kitchen, Cafe Bhonsle, White House (Dona Paula), Bombil or Shree Sateri Kamakshi Restaurant (Caranzalem).
If you want to try some international cuisines in Panjim
Head to Makutsu (Fontainhas), Tataki (Panjim), Miguel's (Panjim), Petisco (Altinho), Raki (Miramar)
If you want to try some Luso-Goan food
Don't miss the Horshoe Restaurant (Fontainhas), Padaria Prazeres (Caranzalem) & Viva Goa (Fontainhas).
If you want to start off with local Goan breakfast
Head to local favourites such as Cafe Bhonsle and Cafe Tato.

III. Places to go shopping in Panjim
When it comes to souvenir shopping in Goa, a lot of smaller, local markets go unnoticed. You may find some great stuff at the beaches, but there are a few hidden places in Panjim that sell amazing handicrafts that make the perfect souvenirs!
The Panjim Market
If you like slow travelling and exploring the local side of your favourite tourist destination, the Panjim Municipal Market should be first on your list. Pick up local handicrafts such as bamboo baskets and seasonal fruits such as jackfruits and mangoes. The sellers there have all kinds of rare and local produce that you might not find elsewhere.
Mario Miranda Store
No matter how mainstream it gets, Mario Miranda's art is one of those things that add to Goa's personality. Pick up a postcard or a framed portrait of his simple art that depicts everyday Goan life and gift it to someone so they know what they're missing!
Azulejos de Goa
If you want to pick up one of Goa's traditional arts – azulejos, head to the Azulejos de Goa in Panjim. They have intricate framed tiles and postcards that make for the perfect souvenir to take back from Goa.
18th June Road & MG Road
If you just want to go crazy and splurge a bit, the 18th June Road and the MG Road are lined with all kinds of fascinating stores. From international retail chains to smaller, locally owned boutiques, you can take your pick.

IV. Experiences in Panjim
There is no dearth of fun things to do in Panjim. You can rent a cycle, take a morning walk or just enjoy the nightlife. The city is as charming as it can get busy. Explore the local breakfasts, hunt down chic restaurants and embrace the Goan way of living in this bustling city. If you want to know more about Panjim's many layers, take a walk with Soul Travelling. You can explore its hidden corners, go bar hopping in Panjim and spend a few hours knowing about its past.
Sounds like a good idea? Know more about all the things to do in Panjim with Soul Travelling!
FAQs
Why is Panjim famous?
Panjim is famous as the charming capital of Goa. Its hidden corners such as Fontainhas offer a perfect blend of vintage and contemporary which is worth experiencing. You can also taste authentic Goan cuisine, fun Luso-Goan food and international cuisines in Panjim.
Is it Panjim or Panaji?
You can write both Panjim and Panaji. While Panjim is generally used in English, locals often write Panaji because that is how the Konkani word is pronounced.
How far is the beach from Panjim?
The closest beaches in Panjim are Miramar Beach, Campal Beach and Caranzalem Beach.